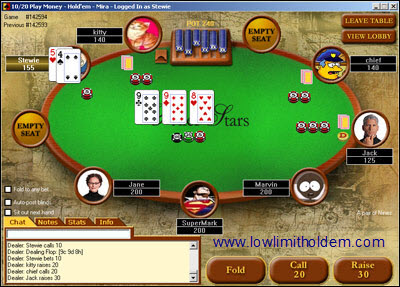 Because of the actions of the US Department of Justice on "Black Friday" April 15th, 2011, PokerStars no longer provides service to players from the United States. They are still thriving and provide the BEST ONLINE POKER in the world for Non-US players.
The Tournament Titan
If there's one thing that Poker Stars is known for it's their large and frequent tournaments. It's a well known fact that if you want the best tournament action on the internet then this is the place to be. Three of the last four WSOP winners were PokerStars players.
The Biggest Cardroom on the Internet
Since the Port Security Act caused many cardrooms including the previously largest cardroom (Party Poker) to stop allowing US citizens to play poker, Poker Stars has soared in size and is now many times as large as the next largest online cardroom.
Resize and Tile
The PokerStars tables are resizable and tileable which makes playing multiple tables a breeze regardless of the resolution of your computer screen. It's also nice for us older folks to zoom a single poker table to almost full screen at 1920x1200 resolution. Besides this, PokerStars has the best support for Multi-Tabling in the industry. You can play on up to 24 tables at the same time and the poker client won't flinch. When combined with tools like Holdem Manager and Table Ninja you have a powerhouse way to grind microstakes and small stakes tables to an extent that can even allow you to get the coveted SuperNova Elite player reward level which is the equivalent of almost 70% rakeback.
The PokerStars VIP Club
Youtube Pokerstars VIP Video
Pokerstars VIP Club Levels
You become a PokerStars VIP the moment you start playing for real money on PokerStars. With your first raked hand, you become a BronzeStar VIP. The more you play on PokerStars, the higher your star will rise. Each level adds more exciting and innovative rewards. The levels that are based on monthly points earned are:
Bronze Stars are the default level. You are entitled to redeem your points at the regular frequent player point (FPP) store.

Once you achieve 1,500 points in a single month you qualify for Silver Star status which goes into effect immediately (not at the end of the month) and continues through the entire next month. At Silver Star level you get a 50% bonus on points earned (earn 1500 points with 1000 points of effort). You also qualify for additional freerolls and events and special VIP players point store rewards.

When you reach 4000 points during a sinngle month you immediately are moved to GoldStar status which gives all the benefits of Silver Star, plus addition FPP store options and a 100% bonus on points earned (earn 2000 points with 1000 points of effort).

At 10,000 FPPs during a single month you reach the highest monthly-qualifying level... PlatinumStar. Here you get all the benefits of GoldStar, addtional FPP store options and 150% bonus on points earned (earn 2500 points with 1000 points of effort).

If you earn 100,000 frequent player points during a year you move to the prestigious yearly-point level of Supernova. In addition to receiving a 250% bonus on points earned (earn 3500 points with 1000 points of effort) you also qualify for many additiona rewards and the player store including significant cash rewards on the way to SuperNova Elite status:

$2,000 at 200,000 VPP
$3,000 at 300,000 VPP
$4,000 at 400,000 VPP
$5,000 at 500,000 VPP
$7,500 at 750,000 VPP

* Each reward bonus will cost 50,000 FPP. In order to claim the reward bonus a player must collect additional Base FPPs totaling 5x their reward bonus amount within 120 days of receiving the bonus. Example – To release your $2,000 reward bonus you would need to earn an additional 10,000 Base FPPs. Players are eligible for one bonus per milestone level reached.

This is the ultimate reward level when you achieve 1,000,000 frequent player points during a single year. Although this might seem outrageous it is definitely possible once you achive Supernova level and are gaining 3.5 points every time a regular point would be awarded. Once you are at this level you get a 400% bonus on points earned (5000 points for every 1000 points of effort) and qualify for all VIP rewards in the VIP store including some outlandish rewards over a million points including a Porsche Caymen S, Buyin to the WSOP main event and more.
WSOP Winners
Chris Moneymaker, the winner of the 2003 World Series of Poker is a Poker Stars player.
Greg Raymer, the winner of the 2004 World Series of Poker is a Poker Stars player.
Joe Hachem, the winner of the 2005 World Series of Poker is a Poker Stars player.
It's All About Image
One neat feature of Poker Stars is the ability to upload a custom image that everyone can see while you play poker with them. This could be a picture of yourself, of Mike McDermott from Rounders, or a picture of a fish riding a bicycle. Raise it up!