World Series of Poker
By Tony Marquis
Arrival: Wednesday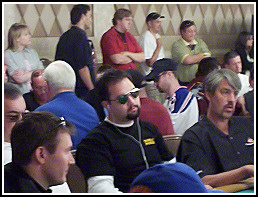 The "Aviator" pondering his next call
I arrived on Wednesday night around 11:30 and I made a tired trek to the Rio to get a little live practice in before Friday's Main Event. I entered a $125 buy-in satellite game at a ten-seat table. This was easily the biggest buy-in I've ever paid into any tournament. We each got $1500 hundred in chips and the blinds were slow to move up, so it was nice not having to push for a change. In the first hand, some European to my left puts all his chips in. Even though no one called, his crazy move made me feel better, and I was a lot more relaxed from then on. I tripled up early in the tourney when I had pocket Kings against pocket three's and an ace-queen. With three people left I took out another guy when a flop came Jd, 5d, 2d. I was holding pocket jacks and when he checked to me I went all-in. He turned over Kd, Qd for a flush. I call out "Pair the board!" then a 6 comes then a river 2 comes giving me jacks full of twos. When heads up came around my opponent had at least a 4-to-1 chip lead over me and I tried to talk him into a chop. He refuses and I solidly gain a chip lead of 7-to-3. I offer the chop to him because I want to at least walk off with something in my first event, and the thought of splitting a $1200 pot seemed fine to me. Anyways I walked out of the Rio at 3:30 a.m. feeling pretty good about my chances.
Day 1A: Thursday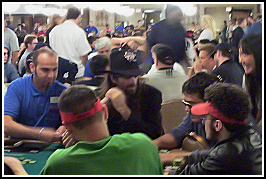 Chris "Jesus" Ferguson
I'm not sure if any of you guys have ever seen 2,000 people in one room playing cards but I have to tell you, it is the most awesome sight I have ever viewed. I made my way around the room to look for poker celebs. Walking into the room on the way in I spotted T.J. Cloutier – who by the way is a very intimidating 6-foot-3 about and about 230 pounds – and I was immediately star struck, and feelings of my own poker inadequacy snuck into my brain. (How could I ever expect to beat the best in this competition?) As I made my way around I spotted Everybody Loves Raymond's Brad Garrett, Gus Hansen, and came to rest at Chris "Jesus" Ferguson's table. The countdown went off, and all players cheered the start of the 2005 World Series of Poker.
I saw something interesting, in the first few hands that Ferguson was involved in, any re-raises made him bulk at his bet and throw in the cards, also he rarely ever bet after flops in heads-up, maybe he was waiting for someone else to make a mistake (No one would and Ferguson lasted about 6 hours). As we were walking out I saw a short and slightly stocky figure make his way through the tables. I whispered over to my girlfriend, "That's Johnny Chan." Chan had come in late – about 40 minutes at that – and sat down at his table, without his orange. I snapped my photo, checked the time, it was about an hour in, and just as I did I heard someone say that TJ Cloutier was already out.
Day 1B: Friday – My Day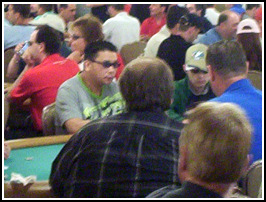 Johnny Frickin Chan
I can't remember her name, but she was introduced as a 1983 bracelet winner, and the singer of the national anthem for our day. Unfortunately I use the term "singer" loosely, lets put it this way, she made Roseanne Barr sound like Celine Dion. It was an uncomfortable beginning to a day I hoped to be relaxed with.
Level 1
It was only 30 minutes in and I looked down at AK off. I raised to 150 in middle position with the blinds at 25-50. No calls until the big blind who just called. Flop brings 6, 9, K. Big blind checks and I bet 300 and he just calls. Turn brings another 9 and the big blind immediately bets 800, which would normally give me cause for concern except that I would of bet close to that amount anyways. I just called and the river brought a rag, I think a 3. Big blind wastes no time betting 2400. This makes me remove my glasses, for a second I think about folding then I review the situation. He has obviously hit the board, he probably wouldn't go complete stone cold bluff on me and also he had played a lot of the first 12-20 hands. I put him on K and soft kicker, and he bet the nine to take the pot away from me. I finally decided to call, confident in my read and comfortable with taking an early hit with a good hand. He sighed and turned over 6c 8c and I had taken a huge step in the right direction. After the first two hour break I was at 14275 in chips, and feeling confident.
Level 2
I didn't stay long at my original table, which I felt good being at – mainly because I was sure that I wasn't the worst player there. I was moved to a frightening table, a table where few would enjoy. Everyone except for one guy played selectively and aggressively. The kind of table where if two people got a hand someone was going out, I only saw aces, queens and AK's turned over the whole time. I bluffed a nice pot early, but I could not seem to get going and did not get a hand better than KJ for about two hours. (This is where live poker really got me, in online poker, one level change without a hand is hardly a cause for concern.) But after the break I had about 13K and confident I would eventually get the cards.
Level 3
More of the same, finished about even taking just blinds and losing my blinds.
Level 4
Here was my favorite hand of the day for me. I'm in the big blind with folds all the way around to the button. The button was this guy wearing an Empire Poker shirt and hat and I saw him staring at my big blind. He then raised. I looked at my hole cards to reveal an A-8 suited. I decide this guy is blind stealing because I pegged him for someone who would value stealing blinds at this level. I re-raised him and he called. The flop came Ah Jh 4s. I bet out again and he tossed them in and I took a little pot to make my stack 13K again before the break.
Level 5
Side note: On the way to the restroom, I stood in line with 1500 competitors (Rio had twenty stalls for 2000 players) and on the way in I saw Chris Moneymaker, who is very short, and on my way out, with my head down I bump shoulders into a tall bald man. I say excuse me and look up and its John Hennigan. Great, that can only be a good omen, lowering my shoulder into Johnny "World," the class of the poker world.
The official beginning of my chip leak, I saw lots and lots of marginal hands and I unfortunately did not play them. Every time I decided to make a move with those hands a re-raise would follow me. (Later on that night I decided I was pegged as a tight passive player, and that was their reason for re-raising) I finished the level at 9750. Dinner Break.
Dinner
Saw Sammy Farha, and I had the world's worst shrimp pork and noodle dish.
Level 6
Whenever I play a big tournament and I come across aces and kings I tense up a bit. What they usually represent is a meaningful hand, a swing hand, with a few others in a pot, you are either coming up big or dropping down low…This particular hand, I had two red kings.
Blinds are 150-300, my stack roughly 8K
Seat 7 raises to 900, all folds until seat 2 (empire poker guy) raises all-in about 3900. I'm in the big blind and I look at my kings. I decide seat 2's play is one of desperation, and I push all my chips in to convince seat 7 to fold. Seat 7 folds.
Seat 2 has 8d 8c
I don't get excited at all, in fact I'm sure all of you have been in the exact same position, people who pump their fist and dance around haven't played enough poker to know this is no sure thing. I am stoic, seat 2 is folding his arms, like he is ready to leave.
Flop: 8s 9s 2s
Turn: 10d
River: 9h
I'm still stoic, I know I should be able to handle this but its ten hours into the tourney, and his section is high-fiving each other, I can't focus, I shift from smiling at his luck, to cussing him out under my breath. One half tells me to get over it, the other half can't believe his desperate move worked for him. With only 3k left I've got only ten bets left, and I promised myself I would always push when I had ten or less bets left because I didn't want to be one of those guys grinding at 1k in chips. I came to win this thing…
Blinds go around for 30 minutes and I get two black tens and push my remaining chips in, chip leader calls and turns over QQ. I don't even have to watch I know I'm not lucky enough.
Nothing hurts more than that walk of shame. I didn't even want to go to party hosted by Doyle Brunson – to promote his new card room. I regret my decision, I wanted to meet "Texas Dolly," my favorite player and maybe take a picture, but I was so distraught.
Saturday and Sunday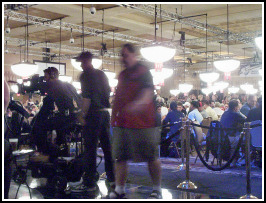 Blurry shot of Raymer making his way back
to the feature table
Back at the Mirage Poker Room I sat across from this complete monkey at a $3-$6 limit table. I noted this in my other article for school (no longer available).
it just seemed this guy was the luckiest guy on earth, and a calling station at that, and he said he made it through to the second day of the WSOP with a healthy stack of $38000.
I went back to the scene of the accident on Sunday before I left (and I saw a shirt in the WSOP store that said "Cowboys: The best pair in the West). There was something odd, I looked at the names of the remaining 700 players I noticed it was extremely devoid of the big names in poker. Doyle Brunson, Phil Hellmuth, and Johnny Chan failed to make it out of their first days.
What my CSI: Rio and Mirage poker room visits showed me was this: You have to be lucky to make it through the WSOP. It's no longer the best player it's the luckiest. And it made me, for the first time re-evaluate my play. I had played too timidly, not the way I'd play in any tournament anywhere. I threw away good hands, and raised too big with my premium hands and too small with my weaker hands. I was the weakest player at my table and it took a slightly unlucky play to unglue my game.
In some sense, it was good. I found out a lot about my game, about what it takes to make it through any tournament. All I know is they better watch out in 2006.