Low Limit Google Gadgets
If you use iGoogle as your homepage you are familiar with Google Gadgets. These are little gadgets that do things like display current news stories, or the weather, or todo lists, or... well anything, really. We've created a Google Gadget you can add to your iGoogle page to keep track of what's new at the Low Limit websites.
What's Hot on the Low Limit Poker Forum
This gadget will show you the most active poker articles on the Low Limit Poker Forum from the comfort of your own home page. Each board and topic name is a link that will take you to that exact place on the forum.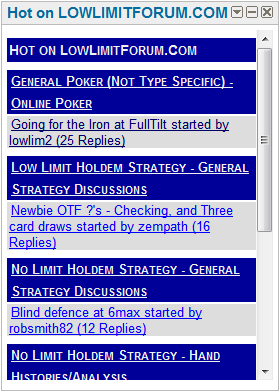 If you are not familiar with iGoogle...
You can visit http://www.google.com/ig to take a look. It's a very very nice home page portal.