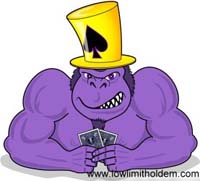 Welcome to Low Limit Holdem!
Welcome to Low Limit Holdem Strategy and Tactics. Our focus is on practical strategy on sitting and winning in very loose low limit holdem poker games. You've come to the right place.
We now have some great articles on playing in Low Limit No Limit Texas Holdem. Visit Articles and Essays section to learn more.
Ready to get started? Check out the topics below and visit our Who This Site is For page and start winning at low limit Holdem!

Thank you for visiting!
Low Limit Holdem Strategy and Tactics Last updated Monday, June 6, 2022